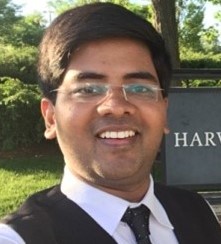 Young Professional - Pathways to Success
Siddharth Rajhans, Principal Policy Officer at UN, New York
Bio: Siddharth Rajhans is an international career diplomat; a Harvard educated first generation technology entrepreneur, a Silicon Valley Technocrat and product expert, management researcher, TEDx and motivational speaker and Pioneer of the Outernet Technology in India and the Asia Pacific Region. Siddharth is currently a Principal Policy Officer working on the Sustainable Development Goals (SDG's) format of the United Nations in New York.
Siddharth has been an alumnus of the prestigious Harvard Business School at Harvard University in the US and has distinguished himself professionally with his illustrious career spanning across Silicon Valley and Singapore with tech giants, in varied roles across product management, innovation, developer relations and supply chain. He has previously worked as a Product Manager for Apple in Singapore and spearheaded Apple's Everyone Can Code project – which paved way for his keynote as the first Indian at the Worldwide Developers Conference in June 2016. Siddharth is an Apple WWDC Veteran and has been a popular figure at Apple's Worldwide Developers Conference every year. He also heads his startup called "Spacify" as a co-founder and CEO, which has been working to provide satellite-powered internet or "Outernet" in Singapore and parts of rural India as part of the Digital India initiative. This was the same project in which he received the patronage of the Former President of India Dr. APJ Abdul Kalam and received a tie-up with the Telecom Minister of India Mr. Manoj Sinha in Oct'16. Spacify is the first spectrum sharing telecom start-up in a domain previously dominated by telecom giants. Siddharth has lived and worked in over 4 countries; started his career as an intern for Face book and after graduating from Singapore, he worked for Google's X labs, before joining Apple in 2014. He has travelled the world due to his entrepreneurial pursuits and works in the tech domain and has been at the forefront of tech, innovation and entrepreneurship on the global platform." Siddharth is on the board of several universities, including DAVV Indore, Symbiosis, Indore, RGPV Bhopal and de facto advisor to several others, including the likes of IIT Kharagpur, NIT Kurukshetra, IIM Ahmedabad and NMIMS Mumbai and Bangalore for bridging the industry academia gap.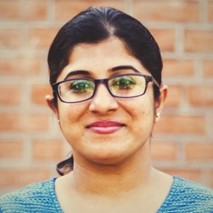 Urging young professionals to feel their power
Bindi Satyam Dave, IEEE GRSS Gujarat, YP
Bio: Bindi Satyam Dave is an Applied Remote Sensing & Geospatial Academician, Researcher & Specialist, Ahmedabad, Gujarat, India. She is graduated in Environmental Science from M.S.University of Baroda, and hold Master's degree in Geomatics from CEPT University, Ahmedabad, Gujarat State, India. Her doctoral study involved work on implementation of Geospatial techniques for study of Urban Heat Islands and Multi-Temporal C-band Polarimetric SAR data for Agricultural Crop Classification.
Her interest areas are mainly Remote Sensing for Environmental and Urban Habitat analysis, Microwave Remote Sensing, and use of GIS based/Geospatial approaches to aid spatial-statistical&locationbased decisions.
With a total work experience of 10 year + in both research and academics, she is currently associated with Faculty of Technology, CEPT University, Ahmedabad, India, as a Visiting Faculty from July 2020. Prior to that she was associated with the same university as an Assistant Professor and Program Coordinator for M.Tech Geomatics programme, since last 3.5 years. She is actively involved with young member of the with IEEE GRSS- Gujarat chapter and involved in organizing and promoting Geosciences in various domains of applied research.